Welcome to McCafferty Hyundai of Langhorne!
Fast, fun, and easy. At McCafferty Hyundai of Langhorne, that's what we believe your car buying experience should be like, every time. After all, a new car is exciting. Just driving it home for the first time is a major thrill. You shouldn't have to deal with a headache beforehand.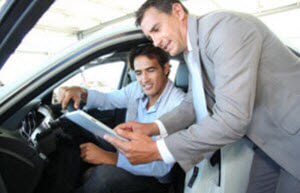 Our team loves Hyundai cars, plain and simple. And we're more than happy to spread that love around to our Langhorne, Philadelphia, and Feasterville-Trevose customers.
A Generous Inventory
In order to have a successful shopping experience, you need plenty of options at your disposal. And luckily, when you shop with us, you'll have access to one of the most expansive inventories of new, used, and certified pre-owned Hyundais around.
Not only that, but we'd like to offer you some excellent deals, too. In addition to our usual specials, which you can check out on our website, you can sign up for the FREE AutoRewards program.
With this program, you'll receive points anytime you shop with us. This could mean buying a car or new parts, or it could mean visiting us for service.
You can use your points however you wish. Not only can they be put toward discounts and perks at our dealership, but you can also use them at participating local businesses and restaurants. The savings will never stop!
We'll Make Things Easy for You
You might not know exactly what you want when you start shopping. But we're here to give you all the advice and direction you want.
Consider what best fits your lifestyle. If you have a small family and are in need of added room, you'd probably benefit from the safe and spacious Santa Fe. Or, if you've got a long weekly commute and need efficiency, try the Sonata.
Our sales representatives can point you in the right direction. They'll even help you get behind the wheel for a test drive!
Keeping Your Car Running Like a Dream
That first day you take your new Hyundai home, it's going to run perfectly. However, as the months and years pass, this quality could slip if you don't treat your vehicle to the right maintenance.
Luckily, your relationship with McCafferty doesn't have to end after purchase. Bring your car back to us for maintenance and repairs, and our skilled technicians will ensure that it runs perfectly for years to come.
It's Time to Find Your Next Car 
When Langhorne, Philadelphia, and Feasterville-Trevose drivers want to start looking for their next car, they can begin with our online inventory. Once you've found something that piques your interest, you can even apply for a loan from home.
When the time comes, stop in and talk to our finance team. Even if you've struggled with credit challenges in the past, they can find a solution for you. Don't worry; we'll get you approved for your new Hyundai.
Start shopping with McCafferty Hyundai of Langhorne today. Your new Hyundai is waiting for you!